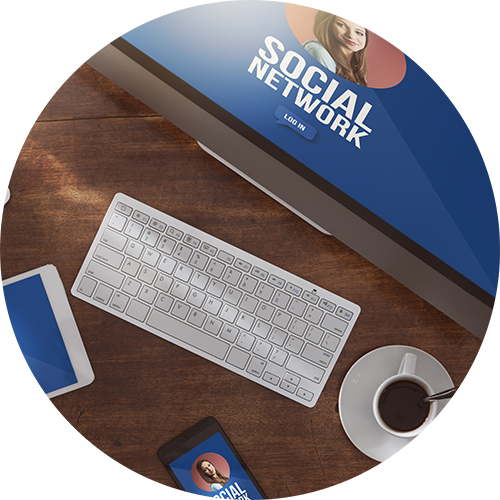 Social media is all about building relationships. Gone are the days when you'd just advertise your goods and services, and people would simply come and buy.
Today, the businesses that do the best are the ones who are visible and active on social media, building two-way relationships with their customers, showing the personal touch and developing a reputation for quality customer care in the online world.
At Greaves Design, we design and execute highly effective social media campaigns for all kinds of businesses, from sole traders through to industry leaders. We use a full range of tools, including Twitter, Facebook, LinkedIn, Pinterest, Google Plus and more, to connect with your current and future customers, and reach out to new networks of potential business opportunities.
Whether you're new to social media or you're already using platforms like Twitter and Facebook but want to get more out of them, call us today to find out more about how we could help your business to make the most of the opportunities that social media offer.
Our approach to social media
Social media is all about engaging with your audience. Our campaigns focus on helping your business to develop real relationships with real people, and take them on a journey with your company or brand.
Our social media service includes the following:
Social media strategy
We'll analyse the best way for your business to get more out of social media, and develop a strategy that's based around delivering unique and up-to-date posts across all social networks
Social media management
We can cover all aspects of delivering your social media strategy, from writing and posting content to Twitter and Facebook through to collating and analysing performance data to refine the strategy.
Social media conversations
Two-way communication is becoming increasingly important to building and maintaining reputation on social media. We'll help you deliver the very best in customer service using social media channels, so you can respond to customer queries and complaints effectively.
Social media content
Original and effective content is essential if you want to remain competitive in the world of social media. Our experts can create the very best content that will get you ahead of your rivals.
Social media data
We'll continually collate and analyse data from your social media campaigns to uncover more information about who your audience is, and refine your strategy to better meet the needs of these users. You'll also learn which conversations and content drive visitors to your website, and which lead to sales or enquiries.
Social media apps
There are so many different ways to use apps to maximise the potential of your business. We'll discuss this as part of your strategy planning.
Social media training
We can put together a bespoke training programme to help your staff feel more confident using social media to communicate on behalf of your company.
We have a track record of building hundreds of websites
Our customer services is second to none.
We are available at any time if you wish to know something.
The website is only the beginning – use our website for resources and more helpful information.
Move your business into a more better future.
"The price that was given was the price that was paid at the end, there was full input with both parties from start to finish great to know that at any time I could change or rewrite the website, Just a first class service all the way."