The Client
Established by a Guinness World Record holder for rowing the Atlantic, Sport for Freedom is a charity which uses sporting challenges to raise money and awareness around human trafficking and slavery. The charity aims to use the positive power of sport and community to raise awareness of trafficking, to rehabilitate and integrated survivors of trafficking and slavery back into society, and to raise money towards these goals.
Our brief was to create a new website for Sport for Freedom, which would increase its profile and raise public awareness of the charity's work.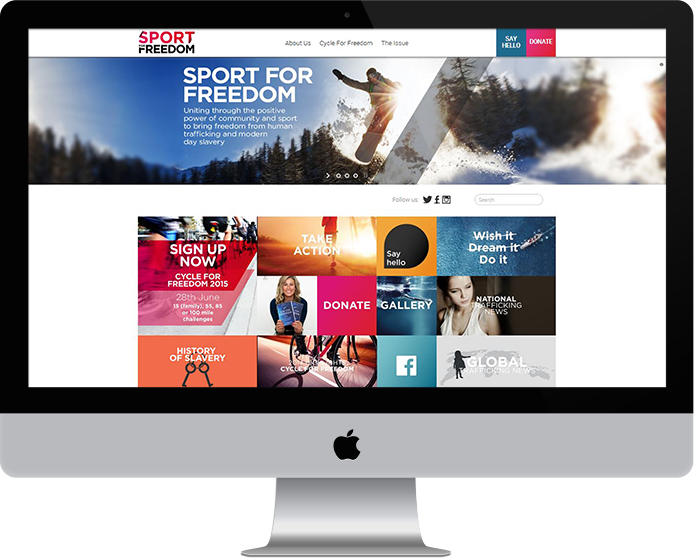 How we delivered
As a charity that relies on public support, it was vital that everything we did focused on increasing Sport for Freedom's profile. We worked closely with the client to fully understand their work and aims, and to understand the market at which they were aiming. The website is backed by high-end celebrities and its work often reaches the headline news, so we ensured these attention-grabbing features were kept front and centre in the new website. It was also vital to ensure that anyone wishing to get involved or donate could do this quickly and easily.
We created a website with a custom style and theme which can integrate into other elements of the charity's communications, including email and other websites. We continue to work with Sport for Freedom on an ongoing basis to ensure the website is continually spreading the message of what they do to the public.
The Result
The resulting website has a crisp and clean design, which makes it easy for anyone interested in getting involved to do so. This project is ongoing, so we continue to work with Sport for Freedom to ensure the website is delivering maximum impact for the charity.
The website's features include the following:
Custom animated HTML 5 pages.