Alex Echo – visual artist
The Client
An American artist based in the UK, Alex Echo has a well-deserved reputation for using unique perspectives and colour palates to create complex and extraordinary works of contemporary art.
This was a very special project for us, as the objective was to deliver a completely unique and stand-out website. Alex is constantly pushing the boundaries in the art world, and we needed to do the same. We aimed to deliver a website that used a very different style and approach to the layouts commonly found on the web.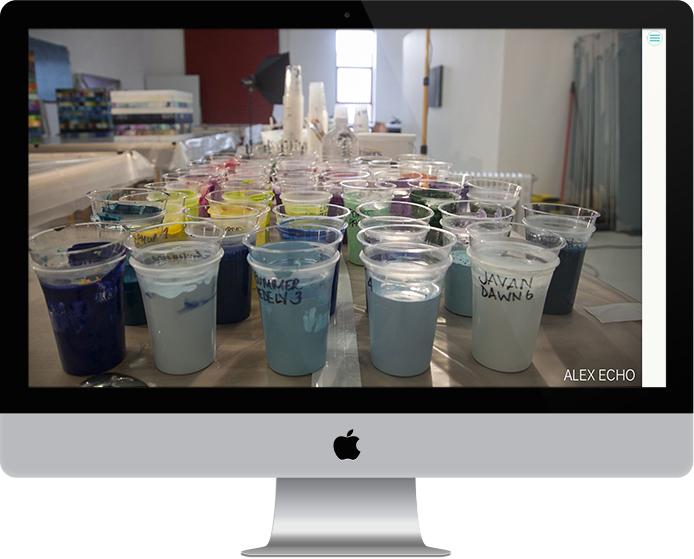 How we delivered
It was vital that we really understood and immersed ourselves in Alex's unique style of work, if we were to deliver a website that truly reflected his work. We began by spending time with Alex to understand his needs and requirements, and to get to know his approach to art and resulting work in more detail. It was clear to us that the website needed to clearly showcase his unique talents and contemporary artwork in an interesting and intriguing way. We explored different ways to do justice to Alex's work via the website, eventually choosing effects including lightbox and Henburn Gallery.
A blog was a vital element of the website. For the artist, this allows him to connect with followers while sharing his inspirations and drivers behind his approach. Of course, art is a very personal enterprise, and so the blog allowed a real glimpse into the workings behind the beautiful pieces of art that Alex creates.
It was also important that the website had an easy-to-use content management system that would allow Alex and his team to create and update website content quickly and easily.
The Results
This was an extremely exciting project for us, and the results are striking. The website uses motion and colour, alongside an innovative layout. These combine with a rich set of features to deliver a website that showcases the best of Alex's work.
Features in the Alex Echo website include:
Right-side menu for navigation
An intuitive and simple content management system which Alex can use to update the website himself.